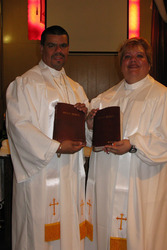 What type of church is International Revival Tabernacle?
At our church you will experience an abundance of love and support. The doors are wide open to people from all walks of life. When you arrive expect a hospitable environment. We have an engaging, dynamic atmosphere geared towards ministering to your whole family.
Pastors Edwin and Odette Guisao
Here you will discover a warm group of real people dedicated to following our Lord and Savior, Jesus Christ.
Street parking is available.
We have an energized worship that will keep you engaged.
Children of all ages are taught and included in many activities.
After Service Activitiess
There are some Sundays we have  after service activities.  It's a wonderful opportunity for the youth to practice with Garment of Praise Dance Ensemble and drama/acting activities .